As a business owner, "so, what's your marketing strategy?" can be a really awkward question…especially when you don't have one (and, no, "we like to wing it" is not a great answer). Develop your own marketing strategy with our FREE template.
Rest assured – you're certainly not alone! Actually, it's estimated that 50% of small businesses in the US are operating without a marketing strategy or plan in place. If they are marketing, it likely means that they are employing the "wing it" approach. It's really easy to burn through a lot of time, money, energy and optimism without any real results. 
Let's change that
Creating a marketing plan for your business doesn't have to be daunting. The key is to get started (this alone will set you apart from 50% of your competitors) and use your time and resources effectively. 
Build a plan that makes sense for your business and your goals.

Zero in on the key messages and offerings that you want to communicate with your target audience.

Organize your efforts into campaigns and decide which channels you'll focus on. With so many options today, it's easy to get buried trying to be everywhere all the time.
More than 79% of respondents who spent between 5 and 10 hours per week on marketing reported revenue growth in 2018, compared to just 52% of respondents who invested fewer than five hours per week on.
Finally – your marketing strategy doesn't have to be a 50-page document. Keep it light on its feet with room to pivot and change as needed. No small business has the luxury of spending weeks upon weeks drafting a monstrous document. Going through the thinking and planning process and ending up with an actionable plan will serve your business much better.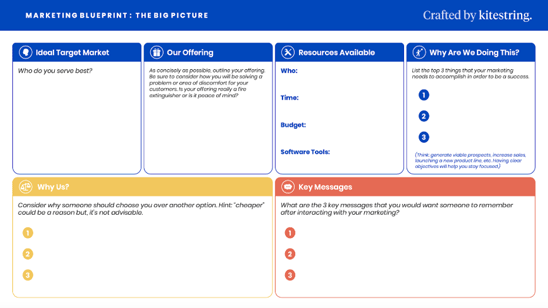 Want a head start?! We've taken over 20 years of experience in developing marketing strategies and plans and boiled them down into a template built for small businesses. Download your FREE copy today and develop your own marketing strategy.