Have you ever gone to a store, or purchased a service, and were left feeling like they just didn't "get" you? Maybe the interaction with staff felt cold, or they were disinterested. Perhaps you're a repeat customer and they didn't really remember you or what you were ever there for. They just can't seem to connect with their best customers.
Then, you walk into another business just like it and everyone is happy, they know you by name, they remember the little things you last discussed and are actually interested in your needs and feelings. For instance, they may be keen to share a great new product with you. Lo and behold, it's just what you've been looking for! Following this experience, you leave with exactly what you needed and make a mental note to ditch the other store and make this your new #happyplace.
How can two similar stores create such different experiences?! It's likely because they've taken the time to understand, attract and delight the people they know are their best customers. (can you say #winwin?!)
Now, let's flip this story around. Take a close look at your business and your customer base – are you attracting and delighting the people that are the best fit for your offering?
If you're not sure, It's time to get up close and personal with your customers right now!
Whether you've been in business 6 months or 6 years, it's never been more of a necessity to have an authentic, consistent and relatable relationship with your best customers. But do you know who they are, really?
One of the most important aspects of any marketing strategy is not only your target customer segments but also their customer personas.
Wait, what's the difference?
A customer segment will frame out things like their location, their age, and their income range. On the flip side, a customer persona is what you want to build your real relationships upon; their names, personalities, interests, behaviours, what keeps them motivated, and how they're influenced.
Once you have an intimate picture of your persona character types, you can effectively build strategies and deliver experiences that will create delightful, long-term customers. Because, let's face it – life's too short to be serving customers that aren't a natural fit for your business!
With 2020 freshly upon us, there's no better time to pause and evaluate which customer relationships you enjoy the most, and what is it that makes them so terrific.
Need some help connecting with your best customers? Download our Customer Persona template below. It provides an easy to use outline to create the different customer persona's that you want to attract this year. We've even included a sample in there to get the wheels turning.
Once you've got them complete, use them as your benchmark when brainstorming and creating marketing program for the year. After that, ask yourself, "Where would Eric (or Sara, or Bob) be looking for this, how are the feeling?, etc."
Wishing you the very best (customers) in 2020!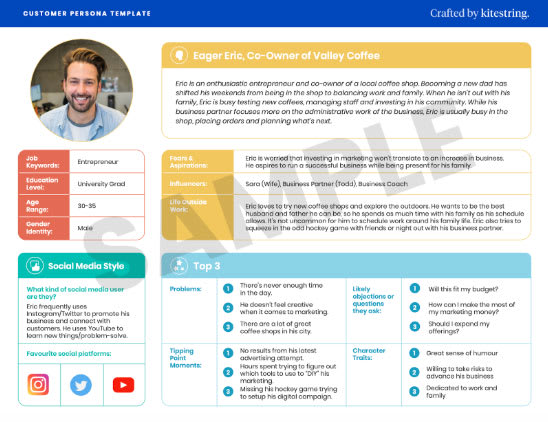 Download our FREE Customer Persona Development Template below and connect with your best customers. It's your first step towards a more mutual relationship with your customers.